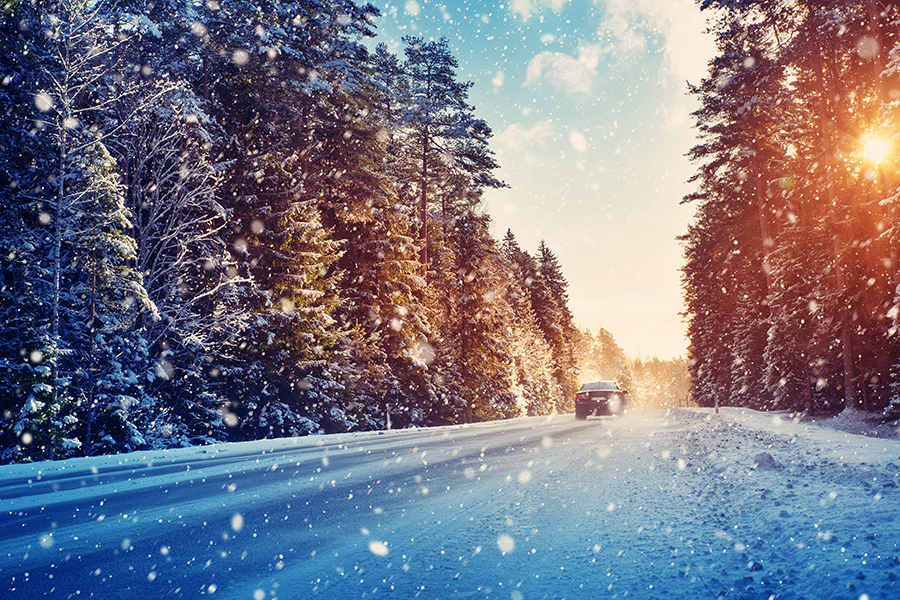 "It's not the destination, it's the journey." American poet Ralph Waldo Emerson's words had little to do with a winter's drive through Muskoka, or maybe they did. Like any great pastime, a driving journey past frozen lakes and parks and villages under blankets of snow may well be about the experience rather than the destination. We're not trying to reach Port Carling, or Rosseau, or Huntsville, or Bracebridge—though all of those destinations are worthy. The point is the journey.
What we see along these pathways is one of the reasons we choose to live in cottage country. Winter driving routes lead in all directions, twisting through the highlands of Huntsville, the farmlands near Bracebridge, and along the shorelines of Gravenhurst and Port Carling. Here are three winter routes I've driven often, both for my work as a realtor and for simple pleasure—passing time during this pandemic. These routes mix highway driving with slow meanders along country roads. You can drive an entire route in a single day, or carve a route into bits, savouring sections one day at a time. The key to a winter's drive is taking time to look around rather than racing toward the finish line. As Emerson said: "It's not the destination, it's the journey."
Circling Lake Muskoka
At about 95 kilometres from start to finish, this route covers quintessential Muskoka: Gravenhurst, Bala, Port Carling, and Bracebridge. You can begin at any point as it's a circle route. I'll start in Gravenhurst, heading through the gates at the south end of town, following the main street past shops, bakeries, and the Gravenhurst Opera House, then dipping down toward the lake to Muskoka Wharf, where you'll see the RMS Segwun and the Wenonah II often covered in snow and always sleeping peacefully in winter. Picking up Muskoka Road 169, we travel the shoreline of Lake Muskoka to Bala, where we turn into the village to pass by the falls, shops and bakeries, and the Kee to Bala. At Muskoka Road 118 we hang a right, following it to Port Carling. The route funnels through the centre of the village, a hub for shoppers, boaters and ice cream lovers. Next, Muskoka Road 118 tracks toward Bracebridge, its most spectacular point the Huckleberry Rock Cut, a canyon that reveals the majesty of the Canadian Shield. In Bracebridge we deviate off 118 for a brief swing through the main part of town, over the "brace bridge" that spans Bracebridge Falls, then down the hill to 118 once again where we hang a left. At the railway bridge near Muskoka Brewery, we turn right on Muskoka Road 17 and follow this Muskoka Beach Road—perhaps the prettiest piece of the drive—back to the town of Gravenhurst.
Huntsville Highlands Tour
This hilly route has many possibilities and is especially pretty in winter. We'll start on Huntsville's main street. At the north end of town we head right on Highway 60. Note: this is were the route has many, many options! We can sidestep by turning left onto Limberlost Road, where we follow its path, as twisty as a roller coaster. At Camp Olympia we turn around and retrace our path back to Highway 60. Back on Highway 60 we approach Canal Road. A right turn there leads us toward Deerhurst, then turns sharply right, over a bridge and left again behind Peninsula Lake. North Portage Road is next, which leads to South Portage Road near Dwight. At this junction we have more choice: a left turn will pop us back on Highway 60 where we can head back to Huntsville; a right turn will lead us along another roller coaster called South Portage Road, a lovely fun drive that tracks the north shore of Lake of Bays. At Brunel Road, we can turn right and circle back into Huntsville, or turn left and follow Brunel to Baysville. Steering left onto Highway 117 at Baysville follows the south shoreline of Lake of Bays. We turn left again at Dorset onto Highway 35, which meets up with Highway 60 and leads us (finally!) back to Huntsville.
Circling Lake Rosseau
Our last jaunt winds a circular route through some Muskoka classics: Port Carling, Rosseau, and Windermere. We'll begin in Port Carling, where we'll stop to gaze at "The Wall", a mosaic painted on a brick wall in the centre of town to commemorate Port's 100th anniversary. Heading east, we'll hang a left onto Muskoka Road 25, also known as Brackenrig Road. This meandering route includes views of the lakes but also offers glimpses of local farm life. We dip left again onto Muskoka Road 24, taking time to veer into Windermere, where the famed hotel commands a grand view of the lake. Next we journey toward Ullswater on Highway 141 until we reach Rosseau, a village that's sleepy in winter but alive in summer with a Friday farmers' market, a general store, and a fabulous bakery. A left onto Highway 632 brings us to Minett and Port Sandfield, two of Muskoka's tiniest, busiest villages in summer. Over the bridge at Port Sandfield, we pop out again onto Highway 118; a left turn leads us back to Port Carling.