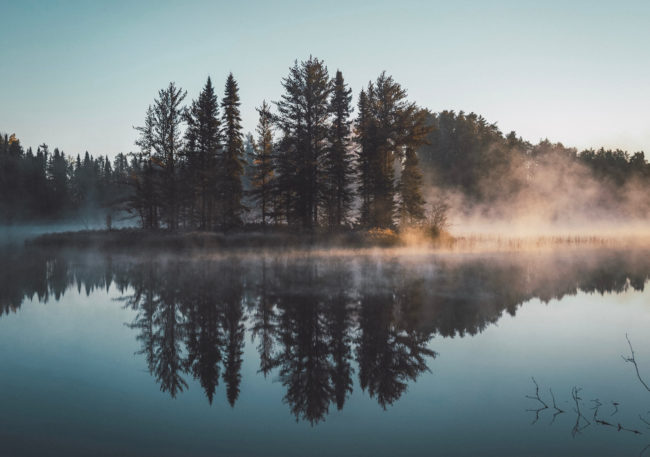 There are more than 330 parks to choose from in Ontario's vast provincial park system. Once they open up in summer, choosing which one to visit might be overwhelming. I've simplified your choices by categorizing them into four easy chunks:
Parks popular among Artists
Parks popular among Birders and Butterfly Enthusiasts
Parks that are Easy to Find and Use
Parks popular in Winter
Parks Popular among Artists
Tom Thompson. A.Y. Jackson. Lawren Harris. These Group of Seven painters found their "scene" in Ontario Parks — so can you.
 ALGONQUIN PARK, HUNTSVILLE
Opening in 1893, Algonquin was Ontario's first provincial park. It's known for glassy lakes, fiery autumn leaves, canoe trips, and howling wolves on starry summer nights. Algonquin is also renowned for inspiring a treasure chest of iconic Canadian art.
Highlight: The Algonquin Art Centre pays homage to artists, including Group of Seven painter Tom Thompson, who died on Algonquin's Canoe Lake in 1917.
 KILLARNEY, GEORGIAN BAY
This rugged, rocky gem captivated more Group of Seven masters, including A.Y. Jackson and Franklin Carmichael. They were inspired by Killarney's pink granite and white quartzite along the shores of Georgian Bay. Hiking and sea kayaking are the park's top pursuits.  Bring a sketchbook.
 GRUNDY LAKE, SUDBURY
Bridging the border between Southern and Northern Ontario is photographer-favourite Grundy Lake Provincial Park, a patchwork of pretty lakes whose "backcountry" campsites lie only 20 minutes by canoe from the park's gateway. Rocky shoreline mixes with sand beaches, evergreens, and spectacular sunsets. Bring your bikes and your cameras.
Parks Popular among Birders & Butterfly Enthusiasts
Birders and butterfly lovers flock to Ontario Parks year after year for rare spottings and magnificent migrations. Three parks in Southern Ontario top the bill.
PRESQU'ILE, LAKE ONTARIO
Lake Ontario's shores come alive in spring and fall with more than 300 species of birds. Presqu'ile's marshy boardwalk and pristine 2.5-kilometre beach are the places to be with binoculars in hand.
Bird Bonus: Tens of thousands of swans, geese, and ducks stop by each March for Waterfowl Weekends in Presqu'ile Bay.
RONDEAU, LAKE ERIE
As one of the system's oldest parks, Rondeau has enjoyed many rounds of monarch butterfly migrations. This Lake Erie park is also home to 11 kilometres of beaches and is popular for windsurfing.
Tag You're It: Rondeau hosts a Monarch Migration Festival each September with Monarch tagging demos and guided butterfly hikes.
LONG POINT, LAKE ERIE
Situated within a World Biosphere Reserve, Long Point is another lively Lake Erie spot. It's among North America's top destinations for birders. But it's also known for its fishing, boating, and beach-going opps.
Canoeing & Birding: Water is calm for canoeing on Long Point's sheltered marsh. Bird sightings abound.
Parks that are Easy to Find and Use
Yurts, heated cabins, and entry-level camping courses are popular at parks close to urban centres. Learn To Camp guides provide equipment, firewood, treats, and lots of expert advice.
BRONTE CREEK, OAKVILLE
The Greater Toronto Area (GTA) is graced with Bronte Creek, a family-friendly park with hiking trails, farm animals, an outdoor pool, and overnight programs that teach beginners how to camp.
Rent-a-Yurt: Bronte also has three yurts for rent featuring bunk beds, electric heat, BBQs, and sunny decks.
SIX MILE LAKE, BARRIE
North of the Greater Toronto Area in cottage country is Six Mile Lake. Located off Highway 400, this park is easy to reach. Its gentle waters are ideal for canoeing. Dock space can be reserved for power boats.
Park Plus: Six Mile Lake Provincial Park offers guided programs in learning to camp and learning to fish.
RIDEAU RIVER, OTTAWA
This historic park lies along the Rideau Waterway, a UNESCO World Heritage Site. Families love it for its level, well-shaded campsites. For rent at nearby marinas: canoes, kayaks, and power boats.
City Sites: With Ottawa only 40 minutes away, Rideau River Provincial Park is a down-to-earth base for exploring the Nation's Capital.
Parks Popular in Winter
Skating, cross-country skiing, snowshoeing, even camping — there's a winter full of activities in Ontario Parks.
ARROWHEAD, MUSKOKA
Arrowhead's 1.3-kilometre ice skating trail snakes through pristine Muskoka woods. Torch-lit skating is scheduled throughout the winter on special Fire & Ice nights. There's a snowtubing hill at Arrowhead, too. Plus nearly 40 kilometres of groomed cross-country ski and snowshoe trails.
Cabin Chronicles: Arrowhead's one-room log cabins are cozy and quaint, with heaters, kitchenettes, multiple bunk beds, and sleds for transporting goods.
SLEEPING GIANT, THUNDER BAY
Sleeping Giant on Lake Superior is known for a massive rock formation that looks a little like a giant snoozing on its back. The park is also on the map for its annual Sleeping Giant Loppet — a cross-country ski festival for experts, beginners, families… the works. There are more than 50 kilometres of groomed trail for cross-country skiing and snowshoeing inside the park. Winter-friendly cabins (heated and well-equipped) are situated on the shore of a quiet lake and are available for rent.
Wildlife: In Sleeping Giant's Boreal forest, expect sightings of deer, foxes, wolves, and lynx.
FRONTENAC, KINGSTON
Four-season backcountry camping is Frontenac's forté, along with snowshoeing and cross-country skiing. Trails meander through tall pine forest and across barren granite, a signature of the Canadian Shield.
Country Escape: Frontenac's proximity to Toronto, Kingston, Montreal, and Ottawa offers accessible winter adventure to city dwellers.