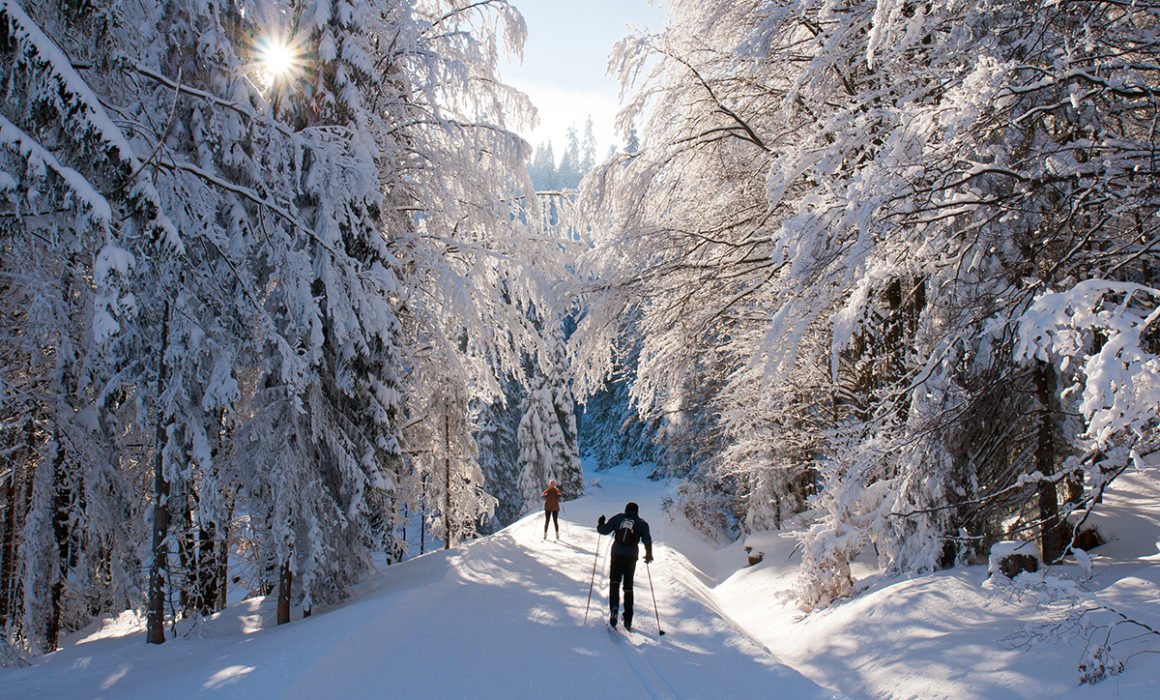 Whether to stay in or get outside is a question Muskokans are going to ask themselves throughout the winter as we await a fix for this pandemic. Fortunately we're in an area blessed with vast outdoor spaces in which physical distancing is doable. And while safety protocols must be followed, experts are indicating it's possible to ski and skate safely this winter. I've gathered some suggestions on how and where to make it happen in Muskoka.
XC Skiing
Stay six feet apart. That's the guideline stipulated by XC Ski Ontario, and it's an easy measure thanks to the equipment on your feet. The organization states the average length of XC skis is about six feet, giving recreational skiers a simple reference.
Cross-Country ski trails in Muskoka are open this winter, including the Bracebridge Resource Management Centre, where there are more than 16 km of trail for all levels and there's no fee. Limberlost Forest and Wildlife Reserve near Huntsville is also free. Its trails feature fun and informative titles—Turtle Lake Trail and Ski Hill Trail—all lined with varieties of larch, hemlock and massive basswoods.  Offering the motherlode of XC trails near Muskoka, however, is Algonquin Park: 85 km of groomed trails plus 32 kilometres more of ungroomed, wilderness skiing.
Skating Trails
Outdoor ice skating, especially along trails, is widely supported by health officials this season, who cite its benefits and its natural open areas. "There's a lot of space and a lot of movement, which is good," says one of Canada's top epidemiologists. "It means you're not being exposed to the same people for prolonged periods, and the ventilation is, of course, second to none."
Listed among the Top 50 Canadian Winter Experiences, the Arrowhead Ice Skating Trail in Arrowhead Park is 1.3 km of fairytale goodness, especially at night when the trailside torches are lit. Winding through dense Muskoka forest, this is a true bucket-list experience. Standard Covid protocols apply, including mask wearing and social distancing. Ontario provincial parks may restrict the number of daily visitors to their parks to ensure safety. Visitors are encouraged to check park rules and limits before arrival.
Alpine Skiing
There are 236 ski areas in Canada and most of them plan to be open this season by adopting the Ski Well, Be Well slogan. Ski resort associations across the country have created Covid safety standards for all resorts, including those situated in or near Muskoka: Hidden Valley, Horseshoe Resort, and Mount St. Louis.
There's little doubt your favourite ski area will operate much differently than in previous seasons, but don't let that stop you. Among the protocols: wearing face coverings at all times, changing your boots in the car instead of the lodge, and physical distancing of at least two metres in lift lines. Fortunately, due to lengths of skis and snowboards, distancing within liftlines is achievable.
Singles lines will be eliminated at most resorts; only those within the same party will be permitted to load onto a chairlift. Most chairs are spaced at least 15 metres apart and travel at speeds between eight and 27 km/h, which authorities say ensures directional air flow. At the top of the lifts, skiers will be encouraged to move away from unloading areas as quickly as possible, and will not be permitted to gather.
Again, skiers will be directed to use their cars as baselodges this winter: lunches, snacks, boot changing, and equipment storing will all take place in the parking lot.
And yes, as with all of the above activities, remember to bring your own hot chocolate!