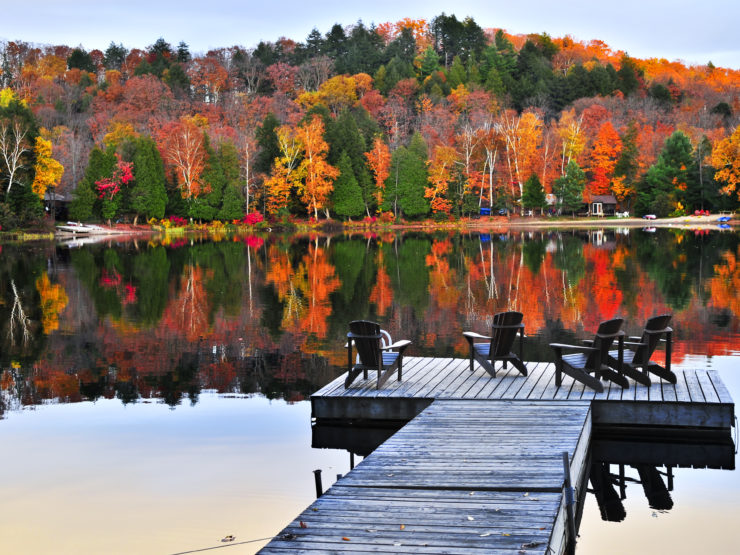 The summer of 2018 was arguably one of the best ever with plenty of sunny days to get out and enjoy Muskoka's lakes, trails and towns. Autumn 2018 is shaping up to be equally good—no need to put away the water toys just yet!
With autumn comes fall fairs, pumpkin spice everything, and a stunning show of colour as Muskoka's deciduous trees bid farewell to summer.
There are many places to view those colours—I've shared some below—but first a bit about the science behind that brilliant shift from green to fiery gold, orange and red.
Just as some of the local wildlife (like those adorable chipmunks) build a stash of goodies to get them through the winter, trees need to stockpile some energy to help them survive the coldest months.
In the spring and summer, chlorophyll (a chemical in the leaves that gives them their green colour) produces nutrients for the tree through photosynthesis, a reaction that uses sunlight to turn water and carbon dioxide into glucose and oxygen. But as the days get shorter, nutrients are moved to the trunk, the chlorophyll starts to break down, and the bright colours of the leaves (which were there all along, hidden beneath the green) are revealed.
A dry summer and an autumn with sunny days and cool nights produce the brightest fall colours—2018 could be spectacular!
Roads a bit off the beaten path provide some of the best fall viewing opportunities. A wonderful driving tour, that also incorporates some local arts and culture, is the Muskoka Autumn Studio Tour. It's Canada's original studio tour—celebrating its 40th anniversary this year—and one of the few studio tours where you do actually visit the place that each artist works. Learn more and find a map at muskokaautumnstudiotour.com.
Algonquin and Arrowhead Provincial Parks are another beautiful option, each providing a different experience. Be aware that traffic can be congested in Algonquin Park in the fall with thousands of people driving Hwy 60 through the park—a mid-week visit is best to avoid the crowds. At Arrowhead, you can take to the trails to see the colours up close—Big Bend Lookout offers a unique vantage point for both fall colours and the Big East River.
You'll find plenty more suggestions for driving tours courtesy of Muskoka Tourism and Explorers' Edge at the links below:
discovermuskoka.ca/top-fall-driving-roads-muskoka
explorersedge.ca/muskoka-tourisms-fall-driving-tours
And don't forget about the view from the water! Rent a canoe, kayak or paddleboard from a local outfitter if you don't have your own, or take a cruise on the Lady Muskoka, Muskoka Steamships, or the SS Bigwin to see how the fall colours reflect along the shoreline.
For other recommendations on where to see fall colours in Muskoka, and when they'll be at their peak, visit discovermuskoka.ca/ontario-fall-colour-report. Happy autumn!