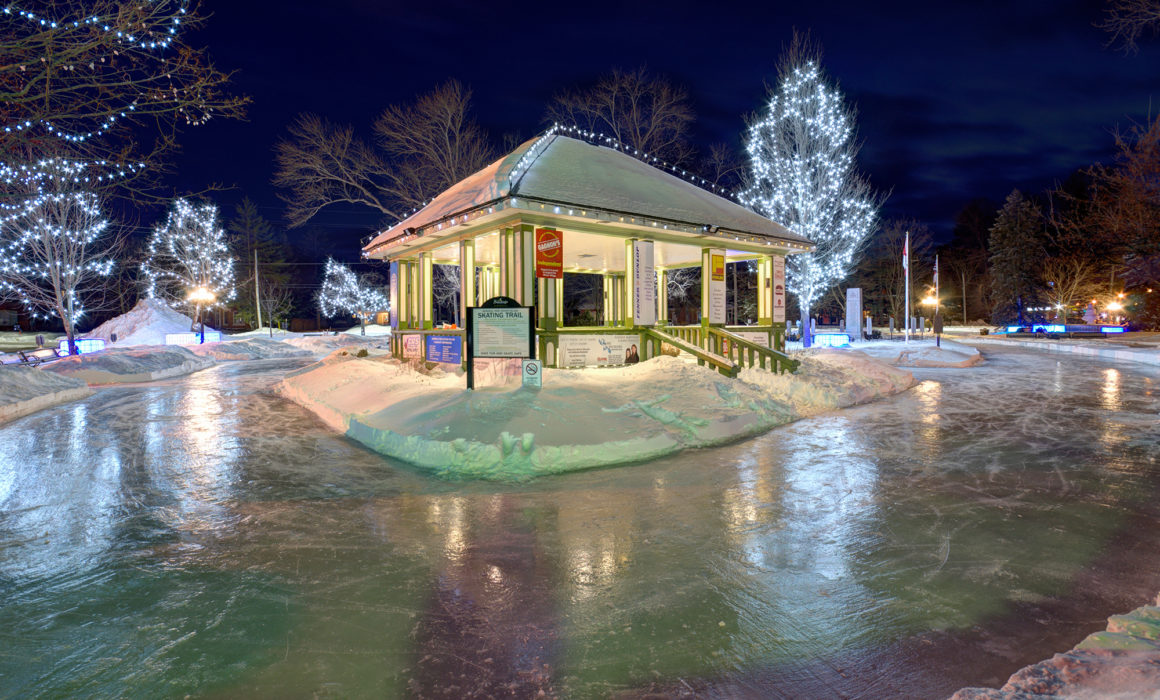 If you love winter, there are plenty of ways to spend a day outdoors in Muskoka. But what if you don't love winter? Our fair-weather friends (and those who just want a break from the cold and snow) need not despair-while you anxiously await the day when you can once again step outside in flip-flops, there are lots of options for indoor joy to be found in Muskoka's arts and culture scene.
Live Shows
There's nothing like a little music or an entertaining play to help drive the winter doldrums away. Muskoka's music and theatre scene hums all year-round, with performances to suit just about any taste. If music soothes your soul, check out what's on offer from Huntsville's Algonquin Theatre, Huntsville Festival of the Arts, the Rene M Caisse Memorial Theatre in Bracebridge, the Gravenhurst Opera House, and Peter's Players. Many local pubs also have live music on weekends (and sometimes weekdays), too.  If live theatre is your thing, the Huntsville Theatre Company and the Dragonfly Theatre Company both offer fun community theatre. Watch for the Rotary spring musicals in both Huntsville and Bracebridge, too!
Galleries
Winter is a great time for contemplation, and art is one of the best ways to contemplate both your inner and outer worlds. Fortunately, Muskoka is a hotspot for artists so there's no lack of inspiration!Arts at the Albion in Gravenhurst is a co-operative gallery that showcases the work of 20 local artists and craftspeople. Its heritage home has a pretty cool vibe, too. The Chapel Gallery in Bracebridge hosts exhibitions primarily by members of Muskoka Arts and Crafts. In Huntsville, the galleries in Partners Hall at the Algonquin Theatreand the Canada Summit Centre highlight the works of members of the Huntsville Art Society and also occasionally host travelling exhibitions. Eclipse Art Gallery at Deerhurst Resort (just east of Huntsville) curates artworks from both Muskoka and across Canada for a one-of-a-kind collection.Many local artists also have gallery space at their studios. See the listings by the Huntsville Art Society and Muskoka Arts and Crafts for details.Once spring is here, you'll also want to make a stop at the Oxtongue Craft Cabin and Gallery in Dwight. It's a playful place to view art and has been delighting visitors to its out-of-the-way location for 40 years. And although not in Muskoka, the Algonquin Art Centre is always worth the drive to Algonquin Provincial Park in the summer months for some truly stunning works set in an equally stunning location.
Museums
Kids of all ages will love the Muskoka Discovery Centre at the Gravenhurst Wharf. Packed with both historical exhibits and interactive displays, it's a great place to while away a winter day. Be sure to check out the new Watershed Wonders which includes, among other fun activities, a 96-inch virtual aquarium.Although its pioneer village is closed in the winter, the Muskoka Museum at Muskoka Heritage Place remains open year-round and offers an intriguing look into Huntsville's past. Its current feature exhibit, Healthy Huntsville, provides a peek at early healthcare in the region (and visitors can see for themselves just how far we've come!). Note that the museum's already inexpensive admission will be free on Family Day, February 17, 2020. Visit MHP again in the summer months to see the Steam Museum at the Rotary Village Station for an overview of steam and steamship history in North Muskoka.Once summer arrives, don't forget to check out Bala's Museum and its memories of Lucy Maud Montgomery, the Bethune Memorial House National Historic Site in Gravenhurst (the birthplace of medical pioneer Dr. Norman Bethune), the Muskoka Lakes Museum in Port Carling, and the Dorset Heritage Museum which are all closed during the winter months.