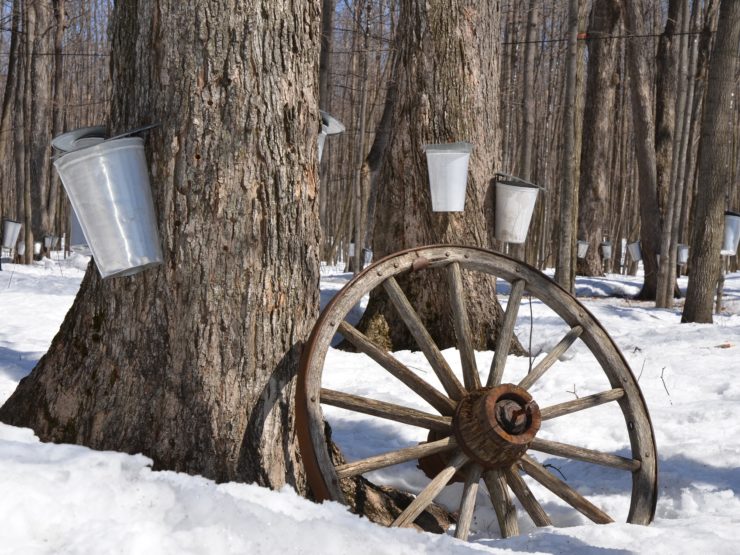 It must have been an inspired moment, one lost to the annals of time, but whoever first decided to boil down sap into a rich, sweet syrup deserves some serious love!
For centuries, people have been gathering the slightly sweet sap from maple trees each spring to make a delicious annual treat. The methods may have changed—many maple syrup producers now use more efficient gathering systems and advanced technology to aid their efforts—but the result is the same: a tasty nectar that graces more than just pancakes.
Maple syrup is produced all over Ontario, right from the province's most southern reaches up to Thunder Bay. Maples go a bit incognito in the spring and summer—from afar they blend into the forest canopy—but if you've ever marveled at the changing fall colours, you'll know how ubiquitous these magnificent trees are.
It's a good thing—it takes 40 litres of sap to make one litre of maple syrup, and Ontario produces about a million litres of the golden goodness each year, second only to Quebec for production levels.
If you've ever wondered how maple syrup producers get from the clear sap inside the tree to row upon row of bottled syrup, a sugar bush tour is the place to be.
In March and April, Muskoka celebrates all things Maple with the Maple Trail and Festival. From March 8 to April 27, look for sugar bush tours, signature maple experiences and maple-inspired dining across the region.
Some maple syrup producers even create unique treats for the occasion. At Sugarbush Hill Maple Farm just south of Huntsville, you can try Maple Creemees: soft serve ice cream twirled with pure maple syrup. Others have the classic maple taffy, created by drizzling maple syrup on fresh snow or ice.
Or check out some of the creative ways local bakeries and cafés incorporate maple into their delectable delights. At Affogato Café and Gelato in Huntsville, experience maple gelato. Indulge in a gluten-free Muskoka maple butter tart or sip on a Masala Maple Chai at The Past Shoppe Bakery & Fine Foods in Bracebridge. Or how about a maple pecan apple strudel from The Bakery in Gravenhurst? Mmmmm… maple!
And for the beer-lovers out there, there's even a maple-flavoured brew for you to sample.
Muskoka's four craft breweries—Clear Lake Brewing Co., Lake of Bays Brewing Company, Muskoka Brewery and Sawdust City Brewery—have collaborated to create the Pancake Breakfast Specialty Maple Ale, a toasted golden brown ale that is inspired by a perfectly flipped pancake with aromas of cinnamon and vanilla. Complimentary samples will be available at each brewery for a limited time beginning March 17.
The Maple Trail culminates in the Muskoka Maple Festival on April 27 in downtown Huntsville, where there will be live music, tasty treats and a Maple Marché. If you love maple syrup, you don't want to miss this!
And if the only way you've ever experience maple syrup is drizzled over waffles or pancakes (a delicious option), check out a list of maple recipes—like Maple Chicken, Maple Syrup Corn Bread, or Creamy Maple Syrup Dressing—from the Ontario Maple Syrup Producers Association at ontariomaple.com/recipes.