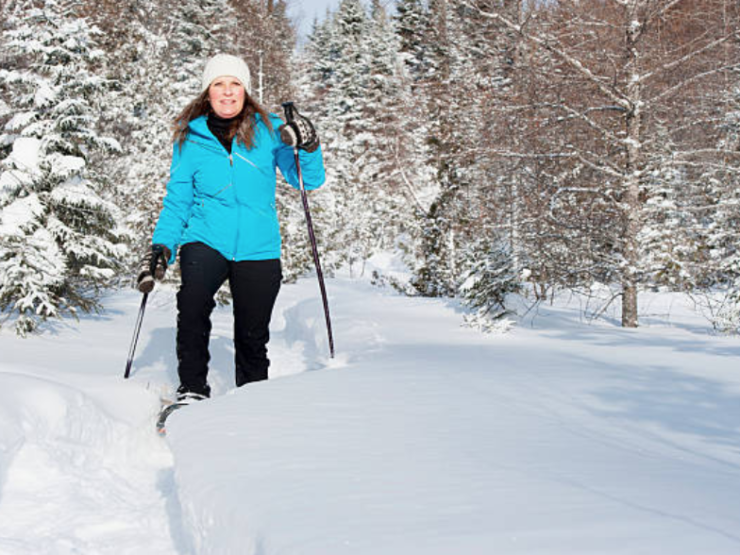 Do you hear it? The gently creaking boughs of the trees, the crunch of snow underfoot. It's winter, inviting you out to play.
There's no better way to enjoy the serene winter landscape than by ski or snowshoe, and Muskoka offers up plenty of opportunities for both.
Don't have equipment? Visit a local outfitter like Algonquin Outfitters or Liv Outside for rental gear and then explore some of the best winter experiences around.
Limberlost Forest and Wildlife Reserve (free, no rentals)
Limberlost is open for public use, free of charge, every day of the year from 9 a.m. to 5 p.m. This beautiful spot northeast of Huntsville is still somewhat of a hidden gem. Although you know there are people around, it can sometimes feel like you've got the whole place to yourself.
There are more than 70km of hiking trails through forests and around lakes that can also be used for snowshoeing. In winter, the reserve also maintains 30km of track set cross-country ski trails (weather permitting). Be sure to check their website for trail conditions.
Bracebridge Resource Management Centre (free, no rentals)
With 16.5km of groomed cross-country ski trails through mixed forest and easy access off Highway 11 just north of Bracebridge, the BRMC is a favourite location for local Nordic skiers. But sorry, snowshoers – snowshoes aren't allowed on the trails. There's just a small (less than 1km) snowshoe loop. You'll find a trail map here.
Torrance Barrens (free, no rentals)
Go snowshoeing at night? Yep. It's an otherworldly experience, especially under a full moon in a dark-sky preserve like the Torrance Barrens, southeast of Bala. Who knew there were so many stars in the sky? And the trail is an easy, 3km trek around Highland Pond. Bring a flashlight or a headlamp (a better choice so your hands are free). Check out the Facebook page here.
Arrowhead Provincial Park (fee, rentals available)
Located just to the north of Huntsville off Highway 11, Arrowhead Provincial Park has 28km of classic ski trails, 16km of skate ski trails, more than 8km of marked snowshoe trails, and off-trail snowshoeing options. You can even try out skijoring (cross-country skiing with your dog!). Get more info here.
Algonquin Park (fee) – Okay, so it's not Muskoka, but it's not far and it's worth the drive. Three track set and one wilderness trail offer 110km of Nordic skiing, and many of the parks other trails are available for snowshoeing. Find winter info here. Or embrace the season completely and join park staff for the annual Winter in the Wild Festival.
Bonus trails
Inevitably, with a top five list of anything there are good choices that get left out because five isn't six or seven or 10. But this being Muskoka, there are of course many more options for cross-country skiing and snowshoeing. So here's a few more:
Echo Valley Nature and Bike Trails (free) – This 3.5km trail network just off Hwy 60 between Huntsville and Dwight is a quiet place to contemplate the winter landscape via snowshoe. Trails aren't winter maintained.
Gravenhurst KOA (fee, rentals available) – the campground isn't open in the winter, but the trails are. There are 15km of track set trails. Snowshoeing is available too.
Cranberry Marsh snowshoe trails (fee, snowshoe rentals available) – Johnston's Cranberry Farm has 10km of groomed snowshoe trails. Cross-country skiing is permitted, but trails aren't groomed for it so may be a bit rough for skiers.